My favourite feature
March 06, 2021
How to customise the stories
Customise The Stories
I've always wanted to do customisable stories. It feels like such an easy way to make them a bit more accessible. You can tailor the story to your audience, read them names they recognise (or don't recognise if that's what works), and have the story wrap itself around them.
There's nothing overly difficult about it technically; you just have to plan out your build and pay attention to the details. I managed to get myself horribly mixed up a couple of times along the way as I was building. Mostly it was my own fault, trying to take short-cuts that didn't work out, then having to go back and build what I should have built in the first place. That's why this update took at least 50% longer to do than I originally planned.
In unrelated news, for unknown reasons, I don't put dates on the Teddy Story roadmap :)
Adding a profile is simple; there's a form at the top of all the stories.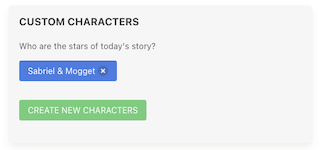 Just enter your characters, and you're good to go. You can enter lots if you want and switch between them. 
If you want to check it out, head over to Meeting Mars Teddy and give it a try. 
What's Next?
That's a good question; I'm glad I asked!
In a word - writing. I need to get back to work on all those half-finished stories. I started another one a couple of weeks ago. The Test Audience was much happier with it than my last effort. They approved heartily (even though it did not include a single mini-gun).
The new one is set way out in the future somewhere, on a planet that probably isn't Earth, with a teddy that doesn't as yet have a name. The teddy may well end up being Medallion Teddy. They appear mysteriously as a medallion when the main character regains consciousness after an emergency operation.
Website wise I'll be making some minor fixes over the next couple of weeks, mostly housekeeping stuff. I'm also looking at the overall visual design, colours, fonts, spacing, etc. Design is something I've always been interested in but have never felt confident about. For the moment, I've been enjoying reading a whole lot about it.
A little over the horizon will be the next big feature, internationalisation, taking Teddy Story to other languages. That's going to be another interesting new challenge when I get to it.
But first, more stories, I promise.
Have fun
Hailstorm